[5pax] Golden Ocean promo for up to 5 pax
By: YachtCharter.sg
Product Code: Golden Ocean by YachtCharter.sg
Earn

9,000

reward points with purchase of this product.
$600.00
$856.00
Or
600,000
points to redeem
---
Promotional rates for Phase 3
4 hours weekday (Mon - Thu) : $600 for up to 5 guests + $60 per additional guests (up to a maximum of 18 guests or prevailing safe management limit)
4 hours weekend (Fri - Sun) : $800 for up to 5 guests + $60 per additional guests (up to a maximum of 18 guests or prevailing safe management limit)
- for 4 hours charter (anchor or berth at Lazarus Island)
- 1 stand up paddle board provided
- one captain only with no crew
- bbq pit with bbq assistance available at additional $50

Extension at $150 per additional hour for weekday or $200 per additional hour for weekend.
For more than 5 guests, additional hour is $180 for weekday, $240 for weekend.
$100 surcharge applies for charter ending on/after 10:30 pm; or $200 surcharge applies for charter ending on/after 11:30 pm.
Charter fees are inclusive of 7% GST and include:
- exclusive use of the yacht for duration of charter
- services of skipper
- fuel & utilities for the operations of the yacht during the charter
- use of selected water sport equipment on the yacht i.e. 1 SUP/kayak
- use of the standard equipment e.g. fridge, microwave, TV, cooler boxes
Food & beverages are not included and may be arranged upon request.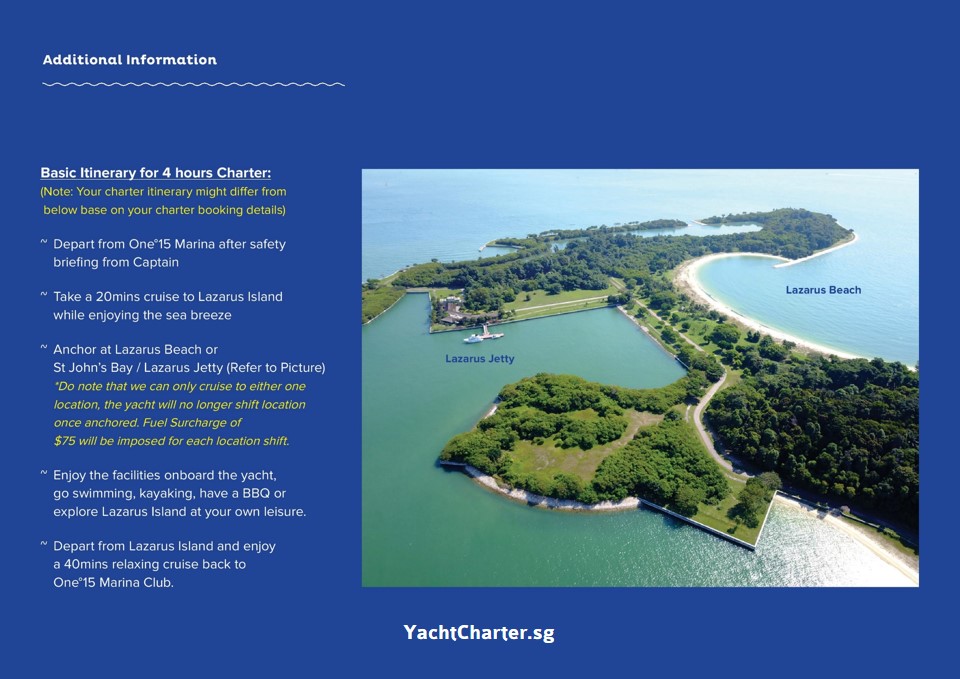 IMPORTANT NOTICE on safe management measures
Please note the additional Safe Management Measures to be implemented during charters in order to carry more than 8 guests on board:
Guests will need to undergo temperature screening at our meeting place. Please note our skipper reserves the right to refuse entry to any guest whose temperature is above 37.5 deg C or showing symptoms, in consideration of the safety of our team and other guests. (In which case, no refund will be given)
Each subgroup cannot exceed 8 guests.
Guests are required to check in and out via SafeEntry on board our yachts.
Onboard, guests will need to remain in their own subgroup which should not exceed 8 persons per subgroup, maintain a safe distance of 1 metre from other subgroups, and are not allowed to intermingle between subgroups.
Onboard, guests will need to wear your masks at all times (except when eating or participating in water activities).
Water activities will be staggered between subgroups so that intermingling will not occur.
Please note that if there's any guest fail to comply with the above, our skipper has the right to end the charter and return to the marina, as we risk losing our license and incurring hefty fines should we not adhere to these measures. In such case, they will be no refund or compensation and the whole charter shall be deemed to be completed and fulfilled.
We seek everyone's cooperation so that we can continue our operations to enable every single guest to enjoy a day out at sea.
Yacht Information

47 feet motor yacht with flybridge usually for up to 18 guests. Departs from & return to One 15 Marina Club, Sentosa Cove.
Golden Ocean's interior layout sits up to 18 guests in a fully air conditioned saloon deck and spacious lounge area on the top deck.
Timeless styling, beautiful furnishings and ample seating feature throughout her living areas to create an elegant and comfortable atmosphere.
Onboard facilities include cabin with bed, washroom/shower room, BBQ pit, microwave, TV
Yacht Name: Golden Ocean
Yacht Type: Basic power motor yacht with flybridge
Berthed / Based at: One 15 Marina Club, Sentosa Cove
Maximum capacity: 18 persons for day charters in Singapore
Number of crews: 1 – skippered charter
Length: 47'