[8-18pax] Golden Ocean promo for up to 18 pax
By: YachtCharter.sg
Product Code: Golden Ocean by YachtCharter.sg
Earn

13,200

reward points with purchase of this product.
$880.00
$1,080.00
Or
880,000
points to redeem
---
Promotional rates for Golden Ocean

For 4 hours charter (anchor or berth at Lazarus Island) - up to a maximum of 18 guests or prevailing safe management limit.
4 hours weekday (Mon - Thu) : $880 for up to 8 guests + $60 per additional guests
4 hours weekend (Fri - Sun) : $1080 for up to 8 guests + $60 per additional guests
4 hours peak (eve of/day of PH): $1350 for up to 8 guests + $75 per additional guests
Peak includes New Year (1 Jan), National Day (9 Aug), Christmas Eve (24 Dec), Christmas Day (25 Dec), New Year Eve (31 Dec), CNY eve, CNY day 1 & CNY day 2.
Charter fees are inclusive of prevailing GST and include:

- exclusive use of the yacht for duration of charter
- services of skipper
- fuel & utilities for the operations of the yacht during the charter
- use of selected water sport equipment on the yacht i.e. 1 single-seater kayak
- use of the standard equipment e.g. fridge, microwave, TV, cooler boxes
Food & beverages are not included and may be arranged upon request.
Add-ons:
- Extension : $200 per hour (weekday); $250 per hour (weekend); $300 per hour (peak)
- City skyline tour : $150 (additional 30 minutes of cruising within the charter duration)
- Use of BBQ with crew assistance (gas grill only, do note cooking tools & utensils not provided) : $50
(Crew are not professional chef and can only assist in cooking the food and will not assist to marinate or prepare the uncooked food.)
*Any charter ending on or after 10.30 pm, there will be surcharge of $150
*Any charter ending on or after 11.30 pm, there will be surcharge of $300
Water toys add-ons:

- Fishing Equipment (without baits)
- Float (1 seater)
- Floating lounge (3 seater)
- Water Trampoline
DO NOTE THAT
~ Golden Ocean can carry a maximum of up to 2 floats
~ No kayaks and floats will be provided or allowed for charter starting from 5.30pm
~ No water activities or swimming allowed after 7pm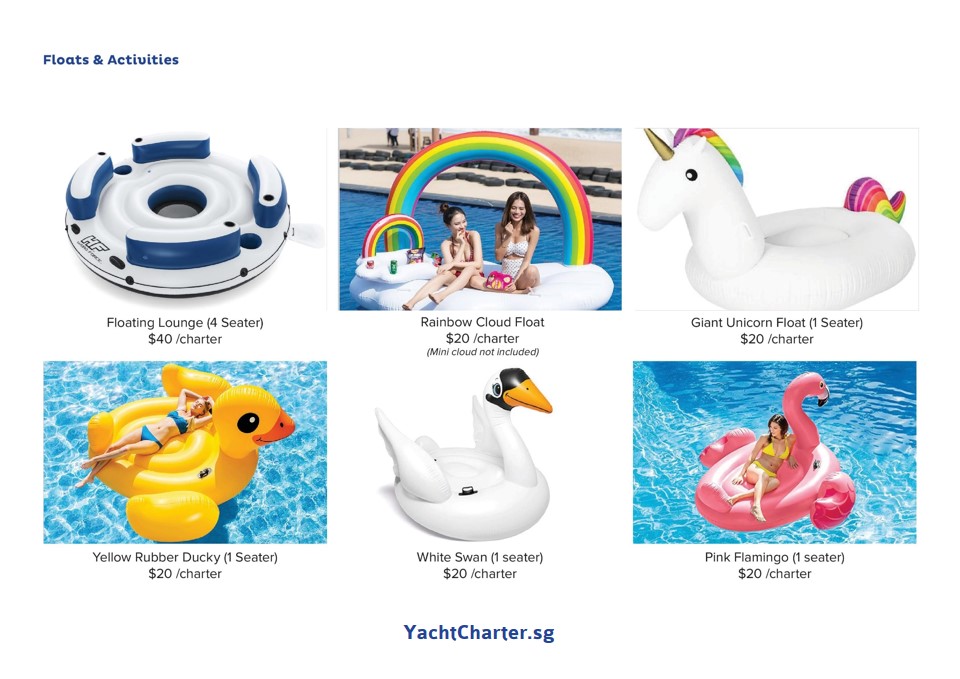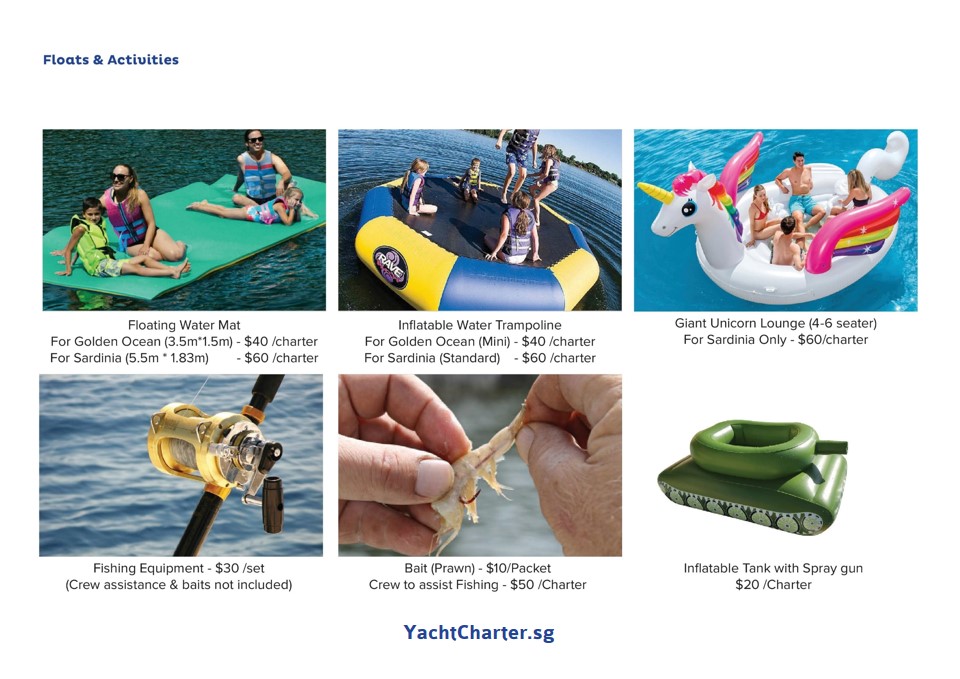 Basic Itinerary for 4 hours Charter:

~ Depart from One°15 Marina after safety briefing from Captain
~ Take a 20 mins cruise to Lazarus Island while enjoying the sea breeze
~ Anchor at Lazarus Beach / St John's Bay
~ Enjoy the facilities onboard the yacht, go swimming, kayaking, have a BBQ or explore Lazarus Island at your own leisure.
~ Depart from Lazarus Island and enjoy an up to 40min relaxing cruise back to One°15 Marina Club.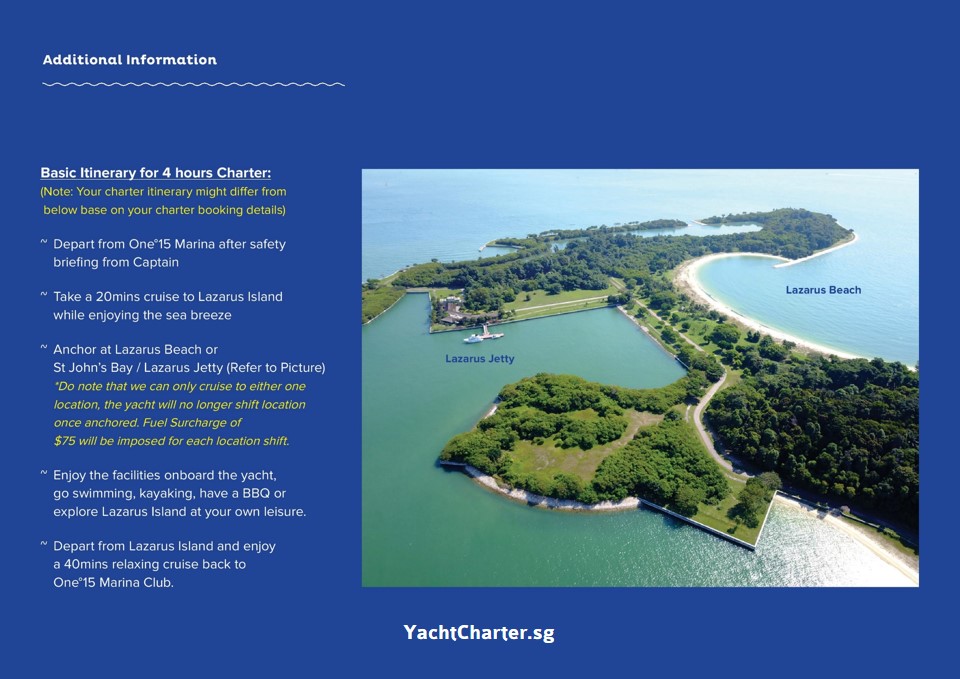 Yacht Information
47 feet motor yacht with flybridge usually for up to 18 guests. Departs from & return to One 15 Marina Club, Sentosa Cove.

Golden Ocean's interior layout sits up to 18 guests in a fully air conditioned saloon deck and spacious lounge area on the top deck.
Timeless styling, beautiful furnishings and ample seating feature throughout her living areas to create an elegant and comfortable atmosphere.
Onboard facilities include cabin with Queen bed, washroom/shower room, BBQ pit, microwave, mini fridge & freezer, TV, Bluetooth speaker
Yacht Name: Golden Ocean
Yacht Type: Basic power motor yacht with flybridge
Berthed / Based at: One 15 Marina Club, Sentosa Cove
Maximum capacity: 18 persons for day charters in Singapore
Number of crews: 2 – crewed charter with 1 skipper & 1 crew
Length: 47'