[5pax] Sardinia special promo for 5 pax BOOK BEFORE 30 SEPTEMBER 2021
By: YachtCharter.sg
Product Code: Sardinia by YachtCharter.sg
Earn

11,235

reward points with purchase of this product.
$749.00
$1,626.40
Or
749,000
points to redeem
---
Special Promo for Sardinia
4-hours charter for up to 5 guests:
$749 (weekday Mon – Thu, excluding eve/day of PH)
$999 (weekend Fri – Sun, excluding eve/day of PH)
ONLY FOR charter dates on or before 23 December 2021. Booking to be made before 30 September 2021.
Timing is flexible subject to your choice & availability. Public holidays and peak periods is subject to 25% surcharge from total amount of weekend rate (inclusive of other add-on).
Charter fees are inclusive of 7% GST and include:
- exclusive use of the yacht for duration of charter
- services of skipper and crew
- fuel & utilities for the operations of the yacht during the charter
- use of selected water sport equipment on the yacht i.e. 2 SUP/kayaks
- use of the standard equipment e.g. Full height fridge with freezer, microwave, TV (40 inch), Bluetooth speaker
Food & beverages are not included and may be arranged upon request.
This is a no-frill basic yacht charter, with various optional add-ons. Basic 4 hours yacht charter includes cruising to the Southern Islands and anchor/berth at Lazarus Island for meals & water activities. Water activities are not allowed after 7pm due to safety.

Add-ons:
- Extension : $240 per hour (weekday); $320 per hour (weekend); $400 (peak)
- Use of BBQ with crew assistance (gas grill, utensils not provided) : $50
- City skyline tour : $150

*Any charter ending on or after 10.30 pm, there will be surcharge of $100

*Any charter ending on or after 11.30 pm, there will be surcharge of $200
Water toys add-ons:

- Fishing Equipment (without baits) : $30 each (max 5)
- Float (1 seater): $15 each (max 3)
- Floating lounge (3-4 seater) : $30 each (max 2)
- Water Trampoline : $50
- Water Mat: $50
Basic Itinerary for 4 hours Charter:

~ Depart from One°15 Marina after safety briefing from Captain
~ Take a 20-30mins cruise to Lazarus Island while enjoying the sea breeze
~ Anchor at Lazarus Beach or Berth at Lazarus Jetty
~ Enjoy the facilities onboard the yacht, go swimming, kayaking, have a BBQ or explore Lazarus Island at your own leisure.
~ Depart from Lazarus Island and enjoy a 20-30min relaxing cruise back to One°15 Marina Club.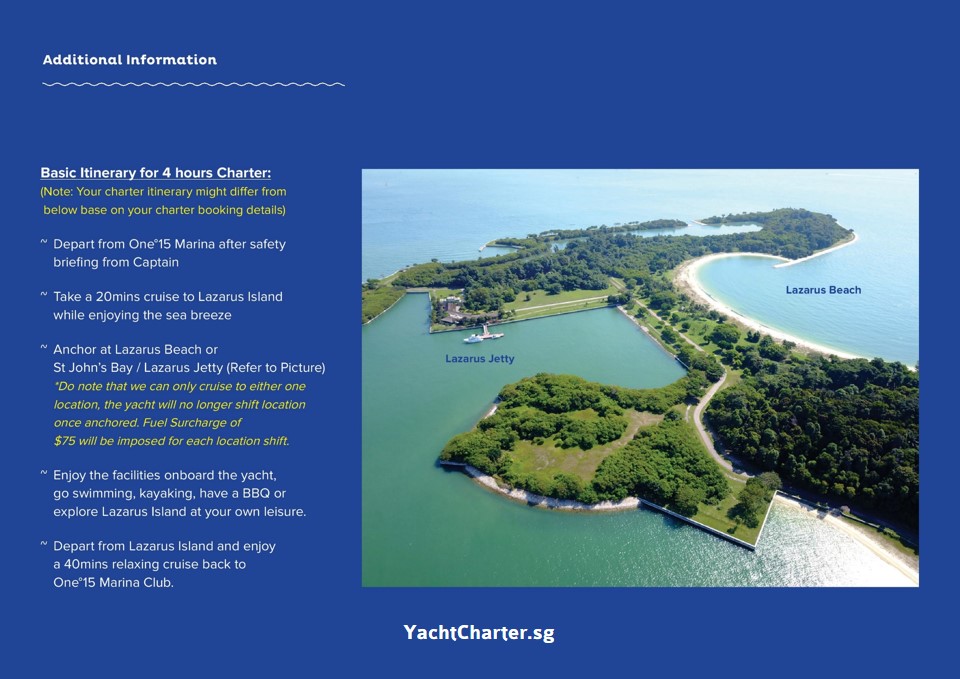 IMPORTANT NOTICE on safe management measures

Please note the additional Safe Management Measures to be implemented during charters in order to carry more than 5 guests on board:
Guests will need to undergo temperature screening at our meeting place. Please note our skipper reserves the right to refuse entry to any guest whose temperature is above 37.5 deg C or showing symptoms, in consideration of the safety of our team and other guests. (In which case, no refund will be given)
Each subgroup cannot exceed 5 guests.
Guests are required to check in and out via SafeEntry on board our yachts.
Onboard, guests will need to remain in their own subgroup which should not exceed 5 persons per subgroup, maintain a safe distance of 1 metre from other subgroups, and are not allowed to intermingle between subgroups.
Onboard, guests will need to wear your masks at all times (except when eating or participating in water activities).
Water activities will be staggered between subgroups so that intermingling will not occur.
Please note that if there's any guest fail to comply with the above, our skipper has the right to end the charter and return to the marina, as we risk losing our license and incurring hefty fines should we not adhere to these measures. In such case, they will be no refund or compensation and the whole charter shall be deemed to be completed and fulfilled.
We seek everyone's cooperation so that we can continue our operations to enable every single guest to enjoy a day out at sea.
With effect from 28 December 2020, 5 guests shall be updated to 8 guests.
Sardinia may only take up to 37 pax subject to special approval for events such as solemnisation or weddings.
Yacht Information

Basic yacht charter of a 57 feet motor yacht for up to 37 guests. Departs from & return to One 15 Marina Club, Sentosa Cove.
Named after the second largest island in the Mediterranean Sea, SARDINIA, promises the experience of a cruise & island getaway that people often imagine with the Mediterranean Sea.
At 57 feet long and 3 deck high, Sardinia has plenty of space ideal for large groups and parties as it is capable of carrying up to 37 passengers comfortably with 1 captain & 2 crew to support at all times.
Onboard facilities include cabin with bed, washroom/shower room, BBQ pit, microwave, full height fridge with freezer, TV
Yacht Name: Sardinia
Yacht Type: Basic motor yacht with flybridge
Berthed / Based at: One 15 Marina Club, Sentosa Cove
Maximum capacity: 37 persons for day charters in Singapore
Number of crews: 2 – crewed charter with 1 skipper & 1 crew
Length: 57'