[5-10pax] Sunset BBQ Cruise on the Pioneer Ocean Blue
By: YachtCharter.sg
Product Code: Pioneer Ocean Blue by YachtCharter.sg
Earn

10,320

reward points with purchase of this product.
$788.00
$1,070.00
Or
788,000
points to redeem
---
Pioneer Ocean Blue may now take up to 10 guests (as per prevailing national regulations).
Sunset BBQ Cruise Rates for Pioneer Ocean Blue
4-hours charter for up to 5 guests: $788 nett
Additional guests at $58 per pax (up to maximum of 10 guests when allowed)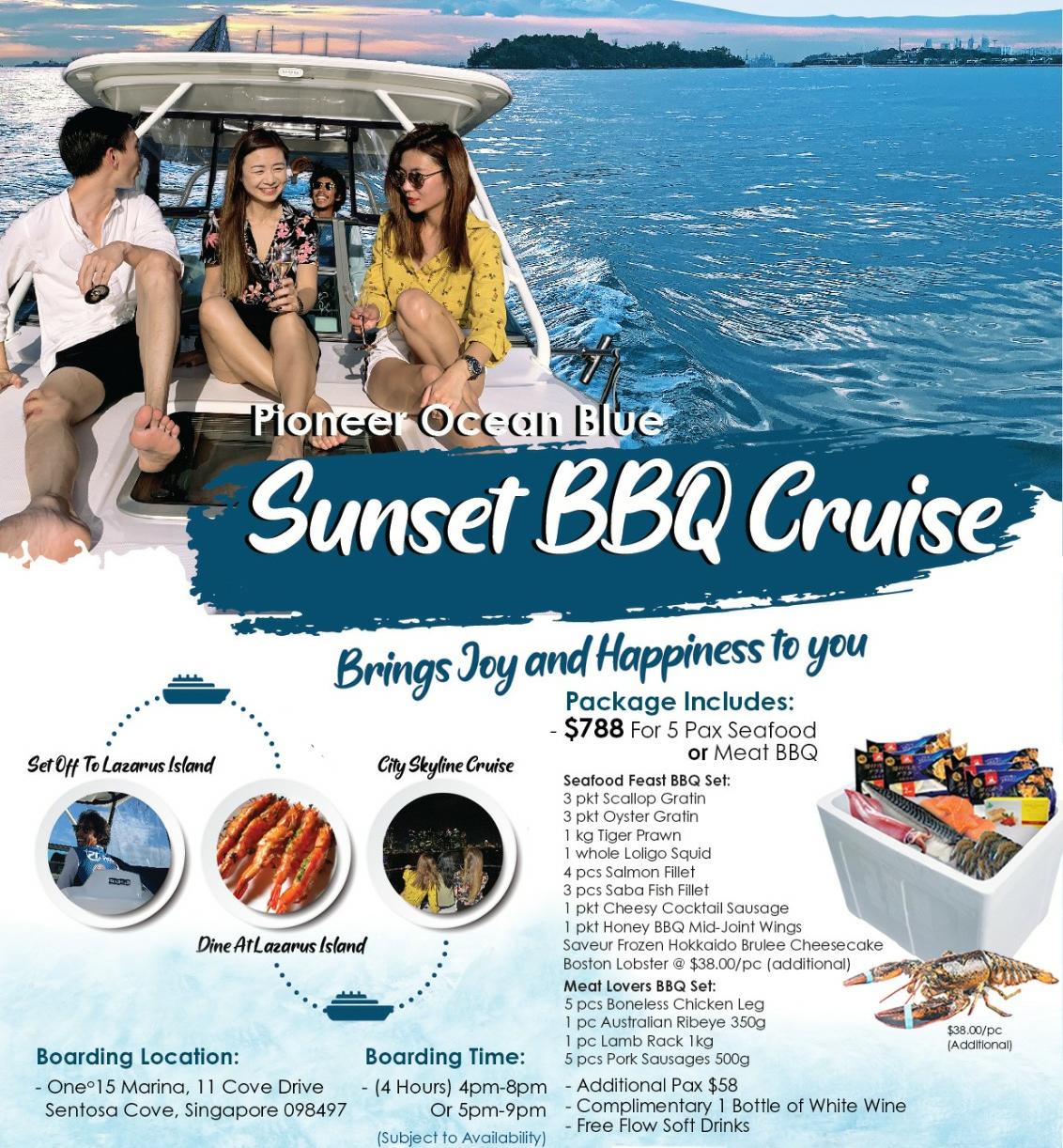 Includes:
- Choice of Seafood or Meat BBQ dinner
- Complimentary 1 bottle of white wine
- Free flow soft drinks
Only available 4pm - 8pm or 5pm - 9pm subject to availability. Peak period may be subject to additional charge.
Do note that fishing equipment is not provided for this package.
Charter fees include:
- exclusive use of the yacht for duration of charter
- services of skipper
- fuel & utilities for the operations of the yacht during the charter
- use of the standard equipment e.g. microwave
Yacht Information

2018 Robalo 305 Walkaround – 30 feet power boat for up to 10 guests. Departs from & return to One 15 Marina Club, Sentosa Cove.

Introducing Pioneer Ocean Blue yacht, a 30 feet power boat ideal for group fishing. This brand new 2018 yacht includes a well-equipped cabin with a kitchenette, bar fridge and bathroom. An experienced captain will bring you to island hop, secret fishing spots, and teach you methodologies for that prized haul. This fishing lifestyle experience is curated to include all the needs on board for your family or corporate associates to enjoy the beautiful waters without the hassle.
Yacht Name: Ocean Blue
Yacht Type: Power boat ideal for fishing
Berthed / Based at: One 15 Marina Club, Sentosa Cove
Maximum capacity: 10 persons for day charters in Singapore
Length: 30'